Bathing and Massage Brushes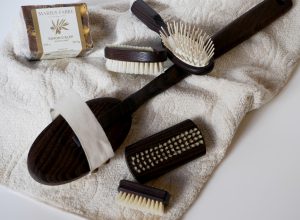 Body brushes for dry/ wet massage, with/ without handle made of, horsehair, domestic boar bristles or Fibre plant fibers
Hand brushes made of wild or domestic boar bristles and Fibre plant fiber
Face brush made of soft domestic boar bristles or delicate goat hair
Massage gloves and back rub made of flax, sisal, loofah, horse hair with aloe vera and fabric (80%Li, 20% Co).
Brush massages tighten your skin, remove dead skin cells and break down fat deposits. At the same time you stimulate your circulation, lymphatic system and intestinal activity. For the classic full body massage, you start at the right little toe, circularly massaging up the leg, then the other leg, then right arm, left arm, back and front.