Shaving Brushes and Accessories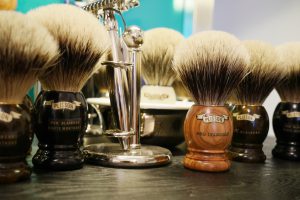 Shaving brushes made of badger hair, bristle, artificial hair
Razors with various blades: Mach3, Fusion, Classic
Stands for brushes and/or razors
Soap bowls
Shaving soaps
We have the largest selection of handmade shaving brushes from Plisson in the entire Rhine-Main area.
The classic shaving brush head
The classic shaving brush head is made of badger hair. Let the hair absorb the warm water, then rub the soap until it creates a wonderful delicate and fragrant lather.
Boar bristles massage much more vigorously, the artificial hairs have the advantage that they are less sensitive than the badger hair, but they do not absorb the water very well and you have to rewet them more often.
Please rinse out the soap residues well.