Toothbrushes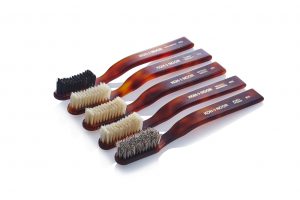 We carry toothbrushes from Koh-I-Noor and Acca Kappa.
The toothbrushes are equipped with badger hair or bristles in various degrees of hardness. The bodies are made of biodegradable cellulose acetate.
No, they are neither disgusting nor a source of bacteria, but last longer and are gentler on teeth and gums. Please rinse your toothbrush with hot water after use and let it dry well,so that no germs can form and the fibers are able to regain their strength. You can buy Koh-I-Noor toothbrushes online store.