Towels and Cloths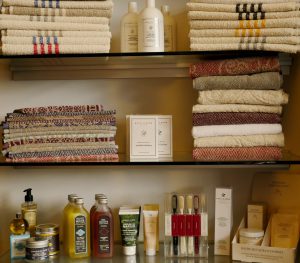 Leitner

Towels made of waffle weave (or honeycomb fabric), terry cloth, linen and   semi-linen as well as bedding and table cloths. All of these items can be purchased through us.

Hoffmann

Kitchen towels 100% linen
Liné Massage Towels, made of 68% linen and 32% cotton.

Jokipiin

Massage back rub straps and gloves from Finland, 70% linen/30% cotton.
The manufacturers recommend that fabric softeners and dryers not be used, in order to protect and maintain the structure and strength of the fabric. E.g. In Frankfurt, for example, the calcium content of the water is fairly high. Occasional use only of a small amount of fabric softener or a delicate dryer setting will keep the fabrics smoother.